Stainless steel flange cut - off valve J41W
The valve stem axis of the shut-off valve is perpendicular to the valve seat sealing surface. The stem opens or closes with a relatively short stroke and a very reliable shut-off action, making it ideal for cutting or throttling and throttling media.
Once the valve flap valve is open, its valve seat and valve sealing surface is no longer between the contact, and has a very reliable cutting action, the valve is very suitable for this as a medium cut off or regulation and section Stream to use. This type of valve in the pipeline should generally be installed horizontally.
Once the cut-off valve is in the open state, its valve seat and the valve sealing surface is no longer between the contact, so its sealing surface mechanical wear is small, because most of the valve seat and valve easier to repair or replace The sealing element eliminates the need to remove the entire valve from the line, which is suitable for applications in which the valve and the pipeline are welded together. Media through the flow direction of such a valve has changed, so cut-off valve flow resistance is higher than other valves.
快盈VCut-off valve, also known as the door, is the most widely used of a valve, it is popular, is due to the process of opening and closing the sealing surface friction between the small, more durable, open height is not high, easy manufacturing, maintenance Convenient, not only for low pressure, but also for high pressure.
快盈VClosing principle of the closing valve is to rely on the valve stem pressure, so that valve sealing surface and the valve seat sealing surface close fit to prevent the flow of media.
Cut-off valve only medium one-way flow, the installation direction. The structural length of the cut-off valve is larger than the gate valve, and the fluid resistance is large, and the reliability of the sealing is not strong in the long-term operation.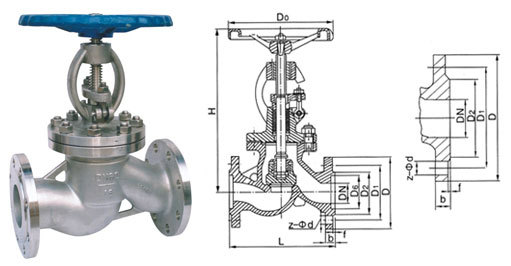 Performance specification:
Nominal pressure PN
1.6
2.5
4.0
6.4
MPa
Shell test pressure PT
2.4
3.75
6.0
9.6
High - pressure sealing test pressure
1.76
2.75
4.4
7.04
Low - pressure gas - tight test pressure
0.5-0.7
Applicable media
C
P.R
N
Water, oil, steam
Nitric acid, acetic acid
Liquefied gas
proper temperature
<425℃
<200℃
-40℃~+80℃
Main dimensions and connection dimensions [J41H J41Y J41W J41N J41B]: http://www.quanliv.com
PN
DN
L
H
H1
D
D1
D2
D6
b
f
f1
Z-φd
D0
weight (Kg)
1.6MPa
10
130
218
228
90
60
40
-
14
2
-
4-14
120
6
15
130
220
230
95
65
45
-
14
2
-
4-14
120
7
20
150
262
275
105
75
55
-
14
2
-
4-14
140
9
25
160
282
295
115
85
65
-
14
2
-
4-14
160
13
32
180
315
335
135
100
78
-
16
2
-
4-18
160
17
40
200
355
280
145
110
95
-
16
3
-
4-18
200
20
50
230
374
398
160
125
100
-
16
3
-
4-18
240
25
65
290
408
433
180
145
120
-
18
3
-
4-18
280
36
80
310
436
468
195
160
135
-
20
3
-
8-18
320
48
100
350
480
520
215
180
155
-
20
3
-
8-18
360
70
125
400
505
556
245
210
185
-
22
3
-
8-18
400
90
150
480
612
674
280
240
210
-
24
3
-
8-23
400
145
200
600
721
806
335
295
265
-
26
3
-
8-23
400
240
2.5MPa
10
130
218
228
90
60
40
-
16
2
-
4-14
120
6
15
130
220
230
95
65
45
-
16
2
-
4-14
120
7
20
150
262
275
105
75
55
-
16
2
-
4-14
140
9
25
160
280
295
115
85
65
-
16
2
-
4-14
160
13
32
180
315
335
135
100
78
-
18
2
-
4-18
160
17
40
200
355
280
145
110
85
-
18
3
-
4-18
200
20
50
230
374
398
160
125
100
-
20
3
-
4-18
240
25
65
290
408
433
180
145
120
-
22
33
-
8-18
280
36
80
310
436
468
195
160
135
-
22
3
-
8-16
320
48
100
350
480
520
230
190
160
-
24
3
-
8-23
360
70
125
400
505
556
270
220
188
-
28
3
-
8-25
400
90
150
480
612
674
300
250
218
-
30
3
-
8-25
400
145
200
600
721
806
360
310
278
-
34
3
-
12-25
400
240
4.0MPa
10
130
220
230
90
60
40
35
16
2
4
4-14
120
6
15
130
228
230
95
65
45
40
16
2
4
4-14
120
7
20
150
262
275
105
75
55
51
16
2
4
4-14
140
9
25
160
280
295
115
85
65
53
16
2
4
4-14
160
13
32
180
290
308
135
100
78
66
18
3
4
4-18
160
17
40
200
330
354
145
110
85
76
18
3
4
4-18
200
20
50
230
350
380
160
125
100
88
20
3
4
4-18
240
25
65
290
400
420
180
145
120
110
22
3
4
8-18
280
36
80
310
430
462
195
160
135
121
22
3
4
8-18
320
48
100
350
465
506
230
190
160
150
24
3
4.5
8-23
360
70
125
400
505
556
270
220
188
176
28
3
4.5
8-25
400
90
150
480
611
692
300
250
218
204
30
3
4.5
8-25
400
145
6.4MPa
15
170
195
210
105
75
55
41
18
3
4
4-14
140
7
20
190
228
248
125
90
68
51
20
3
4
4-18
160
9
25
210
250
275
135
100
78
58
22
3
4
4-18
180
13
32
230
325
355
150
110
82
66
24
3
4
4-23
200
17
40
260
360
395
165
125
95
76
24
3
4
4-23
240
20
50
300
410
450
175
135
105
88
26
3
4
4-23
280
35
65
340
450
494
200
160
130
110
28
3
4
8-23
320
48
80
390
485
531
210
170
140
121
30
3
4
8-23
360
50
100
450
537
580
250
200
162
150
32
3
4.5
8-25
400
125
10MPa
15
170
195
210
105
75
55
40
20
3
4
4-14
100
7
20
190
228
248
125
90
58
51
22
3
4
4-18
120
10
25
210
250
275
135
100
78
58
24
3
4
4-18
160
14
32
230
326
348
150
110
82
66
24
3
4
4-23
200
22
40
260
359
383
165
125
95
76
26
3
4
4-23
240
30
50
300
414
448
195
145
112
88
28
3
4
4-25
280
40
65
340
434
477
200
170
138
110
32
3
4
8-25
320
65
80
390
547
538
230
180
148
121
34
3
4
8-25
400
92
100
450
621
685
265
210
172
150
38
3
4.5
8-30
450
125
16MPa
15
170
230
240
110
75
62
35
24
3
4
4-18
200
10
20
190
260
272
130
90
62
45
26
3
4
4-23
250
14
25
210
280
295
140
100
72
50
28
3
4
4-23
250
17
32
230
315
335
165
115
85
65
30
3
4
4-25
360
25
40
260
350
375
175
125
92
75
32
3
4.5
4-27
350
33
200
600
722
831
375
320
282
260
38
3


12-30
400
240